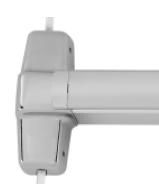 We buy and sell surplus electronic security equipment. We sell brands such as Tyco, Software House, Continental Instruments, Ademco, Northern Computers NexWatch, WSE, Westinghouse, Schlage, HID Hughes Identification, Folger Adam, Adams Rite, Von Duprin, Locknetics, Securitron, Dynalock, and many others.
Surplus items may be factory fresh, dealer overstock, special purchases, shelf dated goods, or liquidation items. We can also purchase most items directly from the factory at substantial discounts. Let me know what you are looking for and I may be able to help. Better discounts are available for volume purchases.
I sometimes have some used, obsolete and discontinued items at discount prices.
I am always looking for bargains. If you have new or used surplus equipment that you want to sell or trade, please don't hesitate to email me with a list of your items and the amount you want for each. I will also buy unclaimed freight salvage.
When you are ready to purchase items, be sure you understand the warranty. Any new, first line items ordered from the factory will have full manufacturers warranty. If a new item is "old stock" and out of warranty, it will be clearly identified as such. When I have used items, they will generally have 90 days warranty. Ask if you are not sure.
Surplus Security Equipment includes: Surplus CCTV, Surplus SpeedDome, Surplus RAS917LSE, Surplus RAS917LS, Surplus Intellex 3.0, Surplus Card Readers, Surplus Access Control, Surplus Software House, CCure 800, RM1-PH, RM-2PH, RM1-MP, Surplus apC/8X, Surplus iSTAR, Continental Instruments Corporation: CA3000, CA495, Superterm, Smarterm, Miniterm, Microterm, Surplus HID Cardreaders: MaxiProx, ProxPro Plus, ProxPro, Thinline, MiniProx, ProxPoint, Card Key, Surplus American Dynamics: Surplus Intellex, Surplus Digimux, Cameras, Multiplexers, Pan/Tilt, Zoom Lenses, Monitors, Power Supply, Maglocks, Surplus Electric Strikes, Electrified Locking Hardware, Surplus Folger Adam Detention Equipment, Yale Security Products, Alarm Lock Siren Lock PG21E, PG21 manual and more. Surplus 310-3-1 WSE1050 cards SE1050 Cards WSE1030 SE1030 honeywell SE 1050 SE422 SE1040 WPSC Wiegand Prox Star Coupler RM-4 RM-DCM-2 RM2-MP RM2-PH RM2L-PH iStarEX istar ex cc800 cc9000
Wholesale, Retail - Low Cost Cheap Bargain Discount Lowest Prices on Factory Overstock, Surplus, Returns, Refurbished, obsolete, discontinued, Unclaimed Freight (No Damaged Freight) If I can't get it through surplus channels, I can tell you how to get in touch with a certified authorized dealer distributor installer in your area. I am NOT an authorized software house dealer.
Please click on a link to the left to view items.
testmykeyword I'm always a buyer for: Surplus HID Card Readers, Used HID Card Readers, Surplus Sensormatic Equipment, Used Sensormatic Equipment, Doors, Used Doors, Surplus electric strikes, Used Electric Strikes, Surplus Card Readers, Used Card Readers, Surplus Security Equipment, Used Security Equipment, Surplus Alarm Lock, Surplus Folger Adam Strikes, Used Folger Adam Strikes, Refurbished customer Support technical advice installation manuals Best Price GSA, Forestry, Army Corps of Engineers, nuclear generating stations